Masters World Cup Bulletin #1 now available
| | |
| --- | --- |
| | Jan 9, 2018 |
| | |
| --- | --- |
| | ICF Canoe Marathon World Championships 2018 |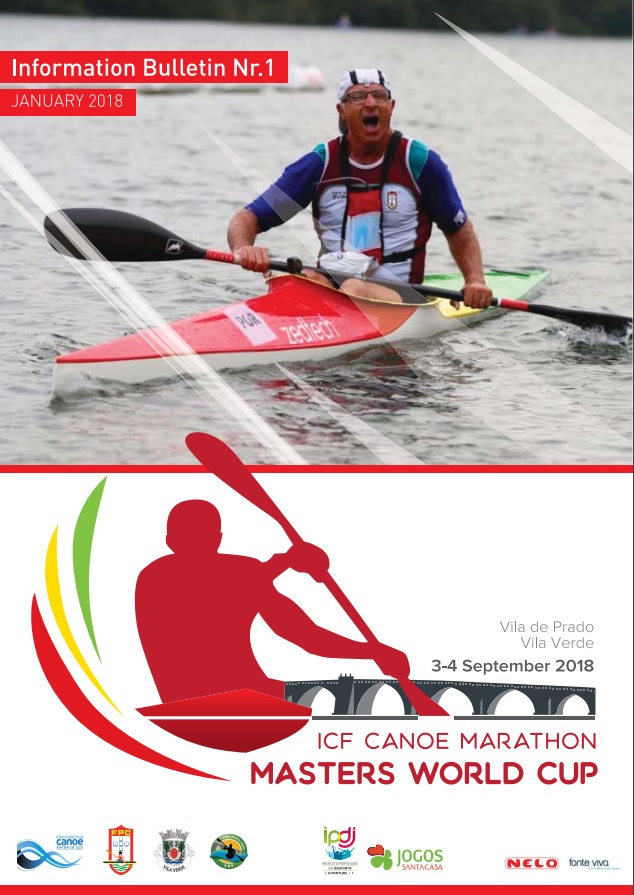 The organizing committee of the ICF Canoe Marathon World Championships 2018, along with the International Canoe Federation and the Canoe Marathon Committee, published today the 1st bulletin for the Masters World cup.
This document includes the first official information on this event, that wil ltake place during the week of the Canoe Marathon world champoionships, including general information about the region, transportation info, accommodation packages, general information about the event, with provisional dates, etc.

It does not include yet, the course and the venue plan as the organizing committee proposed some changes for the European Championships and the World Cup events, aiming to enhance the show and bring new challenges for this World Champs. As this has not been approved yet by the ICF Canoe Marathon Committee, this information will be available very soon.
Portugal will host two masters world cups, one in May in Viana do Castelo, with no bulletin yet released and a second world cup in september, during world championships, taking place in prado. This bulletin is about this second event.
The Bulletin can be found here or in the Documents area at canoemarathonportugal.com
Entries are already open for this event at canoemarathonportugal.com
Jul 10, 2018

The list of registrations and entries has been updated today, July 10th by the local organization committee.

May 30, 2018

Due to the high level of requests for accompanying persons for the ICF canoe Sprint Masters Championships, the organizing committee has stablished a price table...

May 21, 2018

The organizing committee of ICF Canoe Marathon World Cup 2018 published the provisional start list.

May 11, 2018

With the nominal entries closed for the 2018 ICF Canoe Marathon World Cup, almost 500 paddlers will be racing in Viana do Castelo in the end of May.

Apr 23, 2018

The 2nd bulletin for the 2018 ICF Canoe Marathon World Championships presents the layout and course as well as the provisional timetable of events.

Apr 16, 2018

In the framework of the ICF Development Programme the so-called Talent Identification Program will be organized for Canoe Marathon discipline for canoe and kayak paddlers in 2018. This announcement...

Mar 21, 2018

Two members of the ICF Canoe Marathon Committee visited last Saturday Prado and the Nautical Club, venue for the incoming marathon World Championships.

Mar 21, 2018

The Organizing Committee of the 2018 ICF Canoe Marathon World Cup published today the 2nd bulletin of the event.

Mar 1, 2018

The campaign to promote the Sprint and Marathon World Championships, starts tomorrow, March 2nd in Qualifica, a national fair, in the north region of Oporto.