Second medal for Nagy, Fekete and Vekassy in Ponte de Lima
| | |
| --- | --- |
| | Jul 2, 2017 |
| | |
| --- | --- |
| | Canoe Marathon European Championship |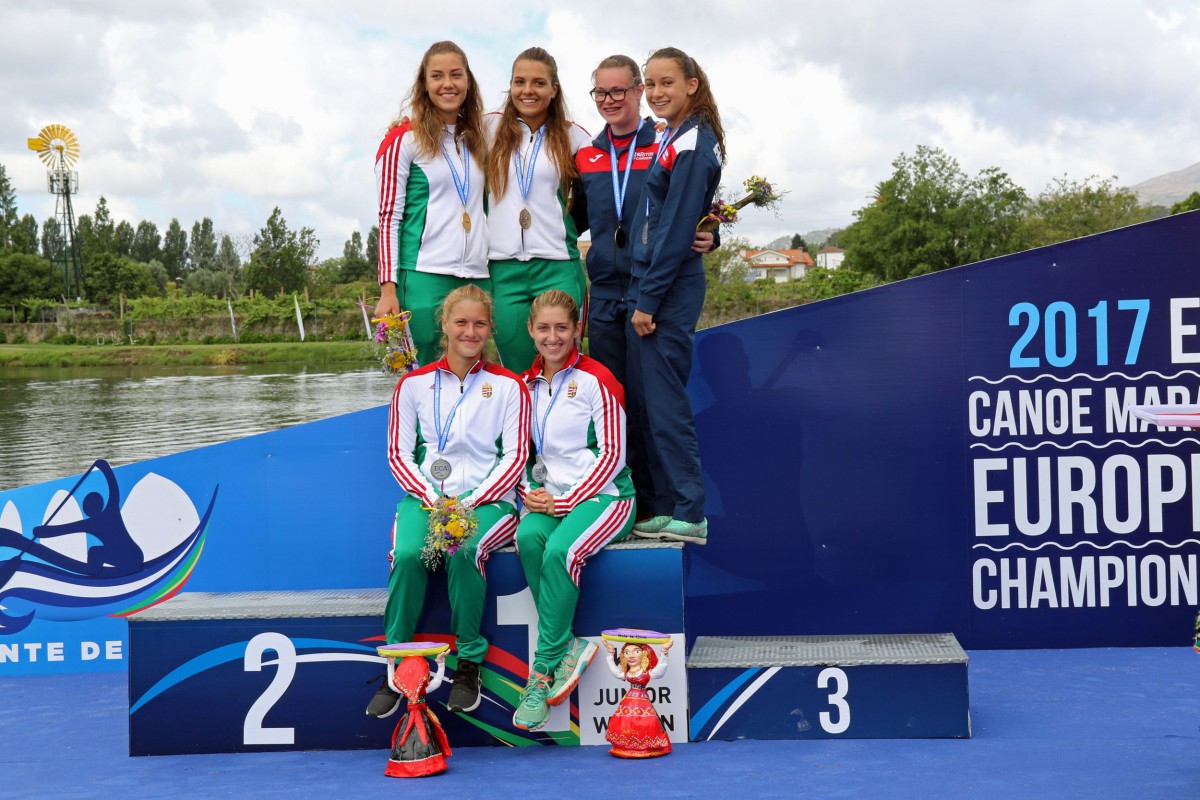 Hungarian junior paddlers Viktoria Nagy, Dorina Fekete and Levente Vekassy won their second medals of the 2017 ECA Canoe Marathon European Championships in Ponte de Lima during the second competition day
Hungarian junior paddlers Viktoria Nagy, Dorina Fekete and Levente Vekassy won their second medals of the 2017 ECA Canoe Marathon European Championships in Ponte de Lima during the second competition day. Viktoria Nagy won gold in K2W junior event together with Zsofia Korsos, Dorina Fekete picked up silver in the same event paring with Emese Tanka and Levente Vekassy celebrated his second European Champion title in K2M junior event, this time with Andras Redl. Patryk Gluza (POL) won in men's C1 U23 event, Heine and Mode (GER) were the best in C2M junior race and Adam Petro (HUN) won in men's K1 U23.
Hungarian paddlers once again celebrated many medals at the Canoe Marathon European Championships that is taking place this week in Portugal. Hungarians finished in position one and two in women's K2 junior event despite being penalised for an error they have made during the race and had to wait at one of the portages for their time penalty to pass.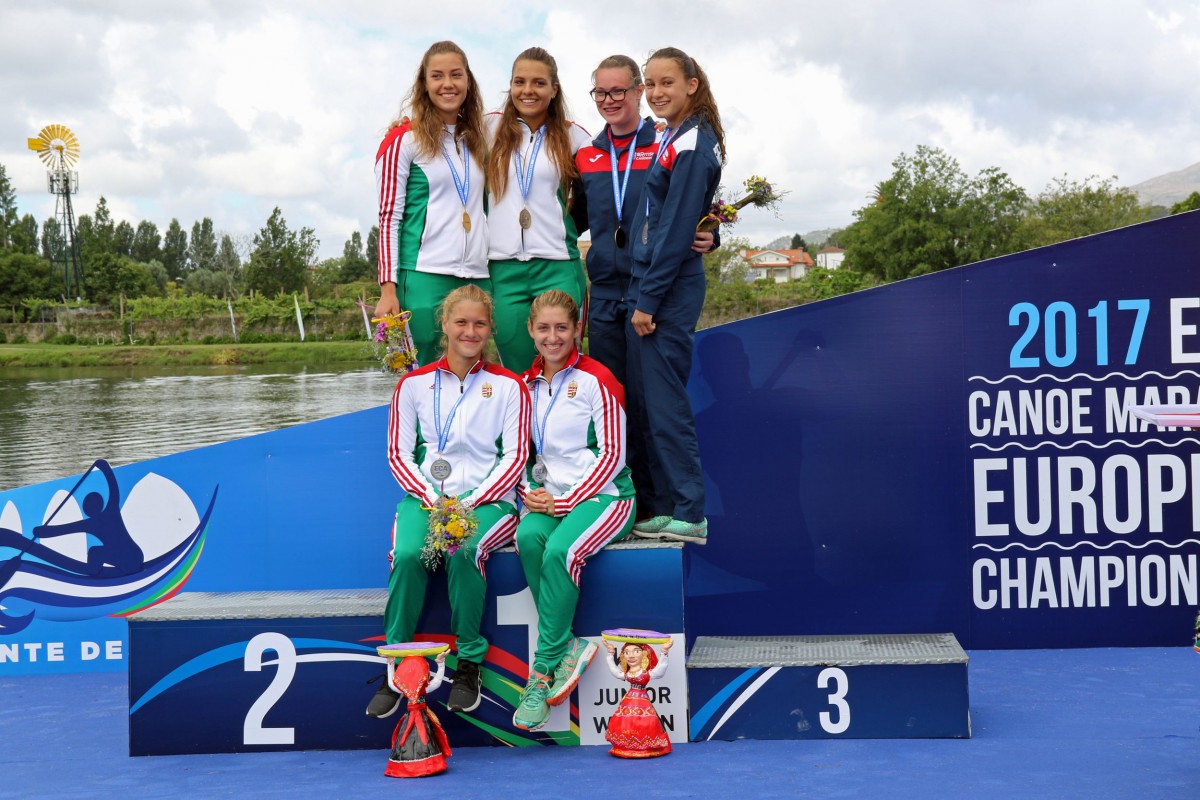 It was Viktoria Nagy together with Zsofia Korsos who stood on the highest podium position for their performance. They were paddling a race of their own and at the end crossed the finish line more than two minutes faster than their closest rivals and team colleagues Dorina Fekete and Emese Tanka. Dorina Fekete picked up gold medal in yesterday's K1W Junior event and Nagy finished second.
"It was not easy, actually it was very hard. We just love to paddle," were the words of Viktoria Nagy after the win.
Emma Russel and Freya Peters finished the K2W junior competition in third place to win the third medal of the championships for Great Britain.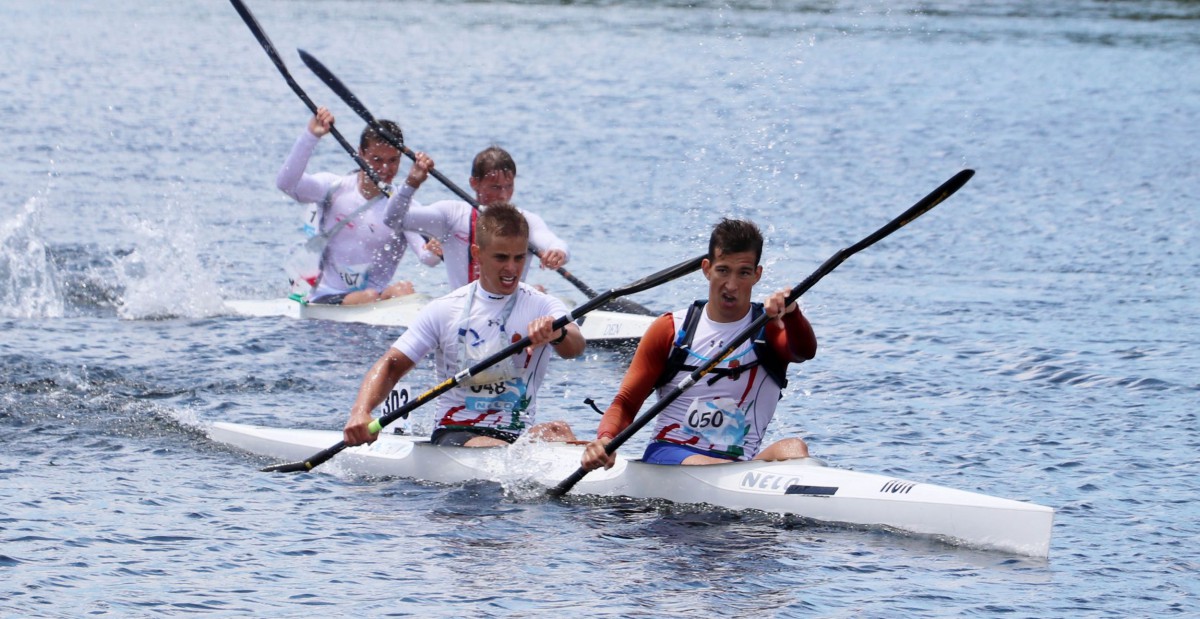 Levente Vekassy and Andras Redl also won a gold medal for Hungary. Vekassy, who became European Champion in junior K1 event, and Redl fought hard until the last metres of the race to secure themselves a top position. Danish duo Thorbjorn Rask – Nikolai Thomsen was only 3.09 second behind and another Hungarian K2 Balazs Bodnar – Adam Horvath finished the race in third position.
It was Poland who dominated the men's C1 U23 event, picking up gold and silver medal. Partyk Gluza and Mateusz Borgiel were paddling together most of the race, helping each other, but at the end Gluza found more strength to cross the finish line with the best time of the race. Sergio Maciel (POR), local favourite and last year's junior European Champion, picked up bronze medal after he paddled with the Polish duo the entire race, but at the end did not find enough power to overtake them.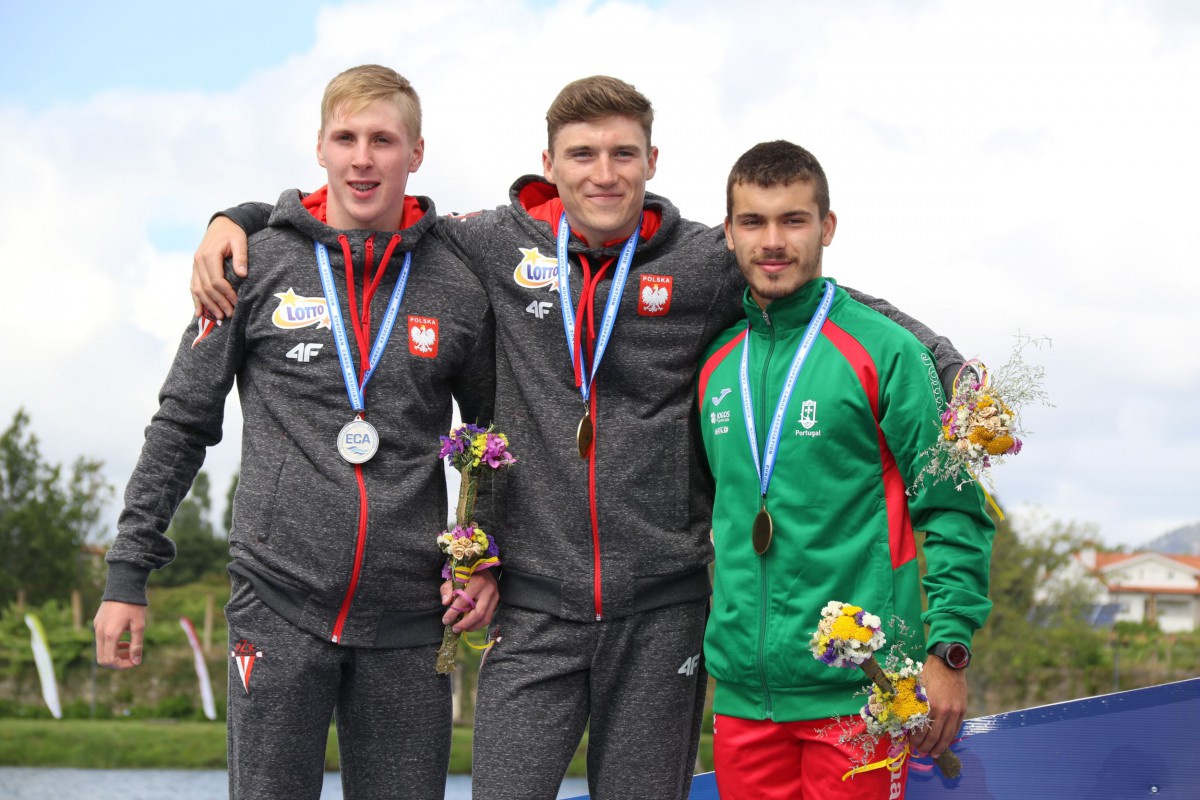 "The race was really good for me today. From start to the end I worked with my teammate and we did it. It went like we wanted; we wanted to control the race from the start until the end. We knew we had a chance for medals today," said Patryk Gluza.
In men's C2 junior race Arved Heine and Jonas Mode won the first medal of this European Championships for Germany. Young duo crossed the finish line 1.43 seconds faster than David Hodovan and Kristof Kollar from Hungary, while Patryk Piotrowicu – Mateusz Cybula finished third to complete a whole medal collection of the day for Poland.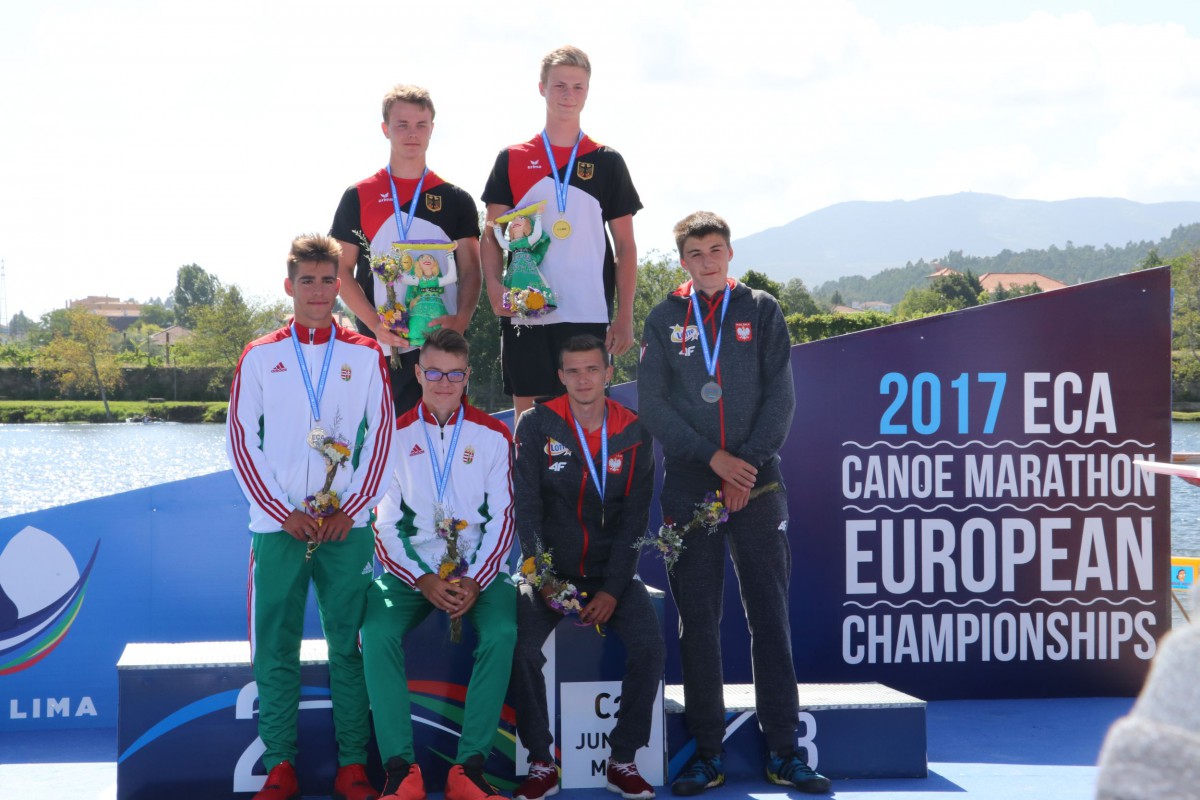 In the last event of the second competition day – men's K1 U23 – Adam Petro defended the U23 European Champion title he won last year in Pontevedra, Spain. Hungarian paddler who was also a U23 World Champion in 2016 crossed the finish line four seconds faster than Miguel Llorens from Spain and Zyggy Chmiel picked up another bronze medal for Great Britain.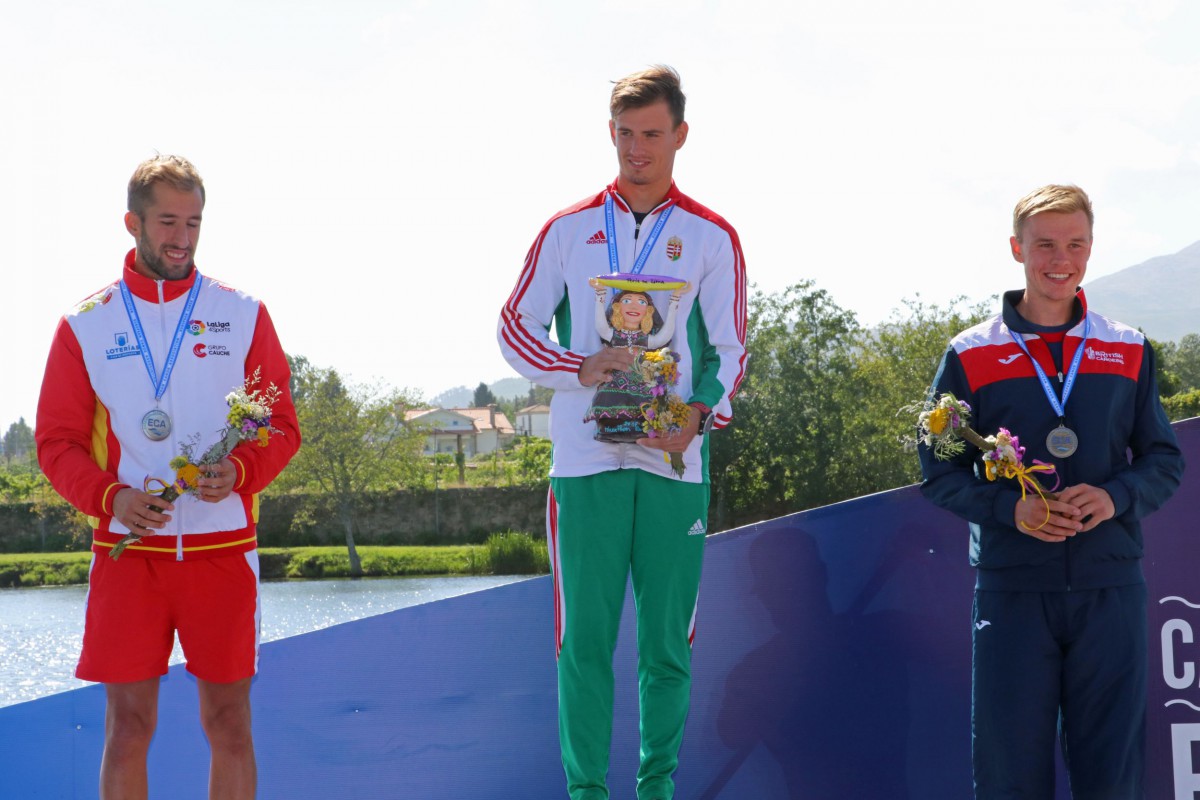 "It was very hard. After last year I wanted to be here. The last portage did not go as I planned, but at least it was interesting in the end. I wanted to control the race all the way. I wanted to get out of the boat first at every portage. In the last portage I was clumsy, I did not pay enough attention," said Petro.
On Saturday senior events are scheduled for the whole competition day. At 9:00 the day will commence with C1W senior event, at 11:50 K1W will follow, at 12:00 C1M and at 14:45 K1M.   
RESULTS: http://canoemarathonportugal.com/index.php?page=timetable-and-results
Videos of the 2017 ECA Canoe Marathon European Championships are available on Canoe Europe Youtube channel: https://www.youtube.com/CanoeEurope
Highlights videos, video interviews and photos can be found on Canoe Europe Facebook page: https://www.facebook.com/CanoeEurope/
Nov 7, 2018

The 2018 Canoe Sprint & Canoe Marathon World Championships held in Montemor-o-Velho and in Prado, Vila Verde, were the biggest events held in this year in the canoeing world.

Sep 6, 2018

Hungarians were featured on the 1st day of the canoe marathon world championship by reaching 3 gold medals after the first 5 races.

Aug 31, 2018

Almost 500 athletes from 35 countries will participate in the ICF Canoe Marathon World Championships 2018, which will take place between 3 and 9 September in Vila de Prado, in the municipality of V...

Jul 25, 2018

Vila de Prado, in the municipality of Vila Verde, will host the ICF Canoe Marathon World Championships, from 3 to 9 of September. Yesterday, the press conference of presentation of the competitio...

Jul 10, 2018

The list of registrations and entries has been updated today, July 10th by the local organization committee.

May 30, 2018

Due to the high level of requests for accompanying persons for the ICF canoe Sprint Masters Championships, the organizing committee has stablished a price table...

May 21, 2018

The organizing committee of ICF Canoe Marathon World Cup 2018 published the provisional start list.

May 11, 2018

With the nominal entries closed for the 2018 ICF Canoe Marathon World Cup, almost 500 paddlers will be racing in Viana do Castelo in the end of May.

Apr 23, 2018

The 2nd bulletin for the 2018 ICF Canoe Marathon World Championships presents the layout and course as well as the provisional timetable of events.