ICF Canoe Marathon World CUP II Bulletin is now available
| | |
| --- | --- |
| | Feb 12, 2016 |
| | |
| --- | --- |
| | Main |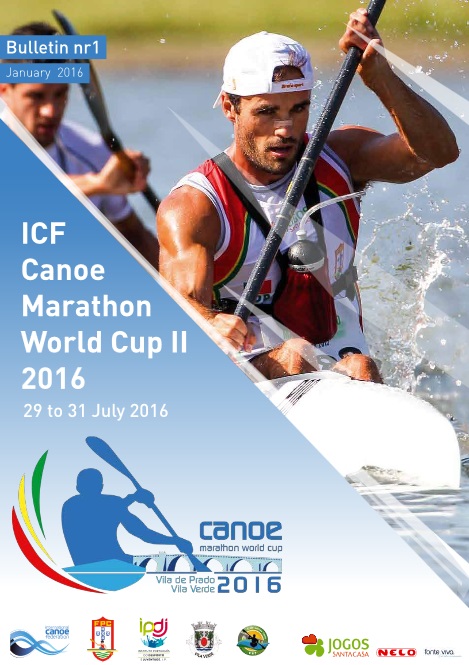 ICF Canoe Marathon World CUP II Bulletin is now available for all national Federations
ICF Canoe Marathon World CUP II Bulletin is now available for all national Federations
The HOC of the 2016 ICF Canoe marathon World Cup II published today the 1st bulletin of the event with all information for national teams preparing their participation in the event.
Special note for the Prize money involved in this event, the invitation and free stay for top athletes from the 2015 World Championships and multiple race program, including Crestuma Marathon and K4 Douro River descent one week before, and Sella descent one week after the world Cup.
Check it now in documents area at canoemarathonportugal.com
Direct link: Here
May 30, 2018

Due to the high level of requests for accompanying persons for the ICF canoe Sprint Masters Championships, the organizing committee has stablished a price table...

May 21, 2018

The organizing committee of ICF Canoe Marathon World Cup 2018 published the provisional start list.

May 11, 2018

With the nominal entries closed for the 2018 ICF Canoe Marathon World Cup, almost 500 paddlers will be racing in Viana do Castelo in the end of May.

Apr 23, 2018

The 2nd bulletin for the 2018 ICF Canoe Marathon World Championships presents the layout and course as well as the provisional timetable of events.

Apr 16, 2018

In the framework of the ICF Development Programme the so-called Talent Identification Program will be organized for Canoe Marathon discipline for canoe and kayak paddlers in 2018. This announcement...

Mar 21, 2018

Two members of the ICF Canoe Marathon Committee visited last Saturday Prado and the Nautical Club, venue for the incoming marathon World Championships.

Mar 21, 2018

The Organizing Committee of the 2018 ICF Canoe Marathon World Cup published today the 2nd bulletin of the event.

Mar 1, 2018

The campaign to promote the Sprint and Marathon World Championships, starts tomorrow, March 2nd in Qualifica, a national fair, in the north region of Oporto.

Feb 8, 2018

The first list of entries and registrations for the incoming Masters Cup in Viana and World Cup in Prado are now available.